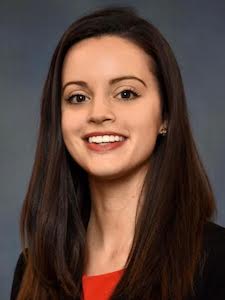 Evelyn T. Latta
Download VCard
Phone: (859) 254-9351
Phone: (800) 486-7083
Fax: (859) 233-9769

141 N Broadway
Lexington, Kentucky 40507
Evelyn T. Latta, a 2020 graduate of the University of Kentucky J. David Rosenberg College of Law, represents plaintiffs who have suffered catastrophic economic, personal, and other monetary damages. Her practice includes areas such as medical negligence, semi-truck accidents, liability for defective products, and more. She had been a law clerk in the firm since 2018 and joined the firm as an attorney upon her admission to the bar, to continue the firm's pursuit of obtaining the best possible outcome for its clients.
After her first year of law school, Evelyn began clerking at Garmer & Prather and became instantly captivated by the passionate pursuit of justice for the firm's personal injury clients. Simultaneously, she competed for a position on the College of Law's mock trial team during her second year and was one of four students selected to compete in the annual intrastate competition. During this time, she realized her passion for litigation and her ability to zealously represent clients, especially in the courtroom. She joined Garmer & Prather so that she could continue using those skills in the representation of seriously injured clients.
During law school, Evelyn's pursuit of justice for did not stop at the classroom door. She also obtained a limited license to practice law as a third-year student and worked in the College of Law's Legal Clinic, providing necessary legal services to underprivileged individuals in the local community. While in school, she was able to combine her interests by serving two years as Vice President of the Equine Law Society.
A lifelong equestrian, Evelyn was drawn to Lexington because of its equine industry that is second to none; eight years later she is happy to call Lexington home. A native of Memphis, she is the daughter of James Latta and Judge Jennie D. Latta, of the United States Bankruptcy Court for the Western District of Tennessee. Evelyn continues to be inspired by her mother's legal career and work ethic.
Upon her admission to the bar, Garmer & Prather was pleased to add Evelyn to its team of accomplished attorneys, all of whom work together to accomplish superior results for their clients who has suffered serious personal and economic injuries.
Education
J.D., University of Kentucky J. David Rosenberg College of Law, Lexington, Kentucky, 2020
B.S., University of Kentucky, Lexington, Kentucky, 2016
Major: Equine Science and Management | Minor: Agricultural economics
Bar Admissions Kentucky

Professional & Bar Association Memberships
Kentucky Bar Association
Young Lawyers Division
Kentucky Justice Association
Women's Trial Lawyer Caucus
Kentucky Horse Council